1962
Photographs
Kieran O'Rahilly's Team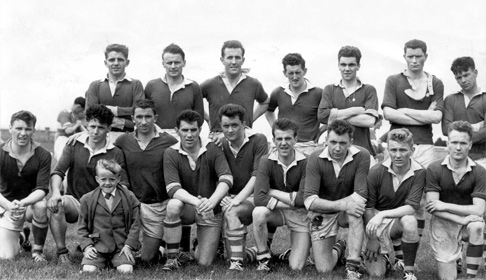 Kneeling out front Albert O'Sullivan
Front Row Left to Right - Liam Dennehy, Peter Moriarty, Richard Walsh, Gary Clifford,Michael Walsh, Denis O'Sullivan , John Dowling, Donal O'Keeffe, Owen O'Sullivan
Back Row Left to Right - Michael Morris, Pa Kerins, Mick Murphy, Christy Griffin, Michael McKenna, Tom Lynch, Michael Moriarty
---
West Kerry couldn't match O'Rahillys' fluent football. (Published The Kerryman, Sat. May 19th, 1962)
Back on the winning trail with a bang came the football of Kerins O'Rahillys, on Sunday last (May 13th 1962) when they outplayed and outmaneuvered a toiling West Kerry team by 2-10 to 3-2 in their third round game in The Kerryman Shield at Austin Stack Park, Tralee. The winners had to withstand a desperate West Kerry rally towards the close but their backs stood firm in face of the onslaught and they even hit back for another beautifully planned score before the final whistle.

In fairness to West Kerry, however. it must be remembered that they were without star players Seamus Murphy, Denny Falvey and Gene O'Driscoll. O'Rahillys, on the other hand, were short Sean O'Donnell and John Magnier.

With the breeze to aid them in the first half the Tralee side were quick to establish their superiority. Midfielders Michael Walsh and Denis O'Sullivan had their work cut out against Torn McKenna and Joe Driscoll, particularly McKenna, but with Centre half-back John Dowling and '40 yards man Garry Clifford always foraging around the half way line, O'Rahillys were constantly triggering off attacking movements. And their quick silvered forwards were not slow in turning these chances to account.

Clifford was the real big man in the winners' attack. Michael Driscoll could never quite match the dashing centre forward who jumped, sallied, kicked and hand-passed with alarming swiftness.

The winners' attack moved as a unit throughout. Admittedly they had their share, of glaring misses from good positions. But they still managed to weave their way through for some fine score.

In that first half their tall full forward, Tom Lynch, showed some rare flashes, of deadly marksmanship. In the 6th and 18th minutes he was on the spot to hammer home two great goals scores that put the winners ahead by 2-2 to 0-1.

But back came West Kerry in the 21st minute and first Tom Dowling and then Michael Lovett crashed home morale-boosting goals within seconds of each other. O'Rahillys came again, however, and at half time they led by 2-5 to 2-1.

The expected West Kerry resurgence in the second half was never allowed develop. The winners were still calling the tune in the centre of the field and their attack was still explosively dangerous. West Kerry made many switches, the most rewarding being the moving of Pat Dowling from attack to midfield, where Tom McKenna was over-worked.

The winners' centre-half, John Dowling and Garry Clifford swapped places and the move proved a worthwhile one for Dowling led some fiery raids on the West Kerry posts and Clifford blunted many of the losers' thrusts down the middle.

By the 19th minute the winners had added four more points to lead by 2-9 to 2-1 and it seemed that now only a miracle could save the Westerners. But that miracle never came. True the Cork-based centre half-forward Michael Lovett fastened on a great save by goalkeeper. Richard Walsh, from a shot by Joe Driscoll, and slammed in his side's third goal in 21st minute. The losers were almost through seconds later when Denis O'Sullivan intercepted a pass by Paddy Hussey which must have brought a goal. Pat Dowling-tried vainly to instill fire and finish in the side-had their last score when he sent a long range angle free sailing over the bar.

But those two scores were the total result of sustained ten minute's spell of pressure by the losers. More often than they found their path towards goal stopped by the sure - footed, fast-clearing O'Rahillys' backs. Seconds before final whistle a lovely movement between Denis O'Sullivan, John Dowling and Donal O'Keeffe saw Dowling seal O'Rahillys' victory with a splendid point.
As a team Kerins O'Rahillys have seldom played better. There was purpose in everything they did, and some at their attacking movement were exquisitely woven.

They had their chief architect of victory in defense Pa Kerins, Mick Murphy and John Dowling, mid-fielders Michael Walsh and Denis O'Sullivan and forward Garry Clifford, Tom Lynch, Michael Moriarty and Donal O'Keeffe. Their goalkeeper Richard Walsh was in sparkling form and toiled the opposition of goals on several occasions. West Kerry could never match the fluent football and combination of their opponents. The losers were particularly at fault in attack where only Pat Dowling, and to a lesser extent Michael Lovett and Paddy Hussey, made any impression. McKenna was good but not consistent at midfield while Joe Driscoll put in his best work in the last quarter. In defence full-back Jack Dowling halted many dangerous rushes. Jack Walsh also had his moments at left full. West Kerry have a real find in their fiery right half-back Sean Lynch. He had a brilliant game and should be a big asset to the county minor team this year.

O'Rahillys' have now won two games and lost one in the Shield to date. This was West Kerry's first defeat in three outings in the competition.

Scorers: O'Rahillys-T. Lynch (2-2),D. O'Keeffe (0-3), M. Walsh (0-2), G. Clifford, M. Moriarty and J. Dowling (0-1) each.
For West Kerry: M. Lovett (2-0), T. Dowling (1-0), T. McKenna and P. Dowling (0-1) each.

Kerins O'Rahillys' - R. Walsh; M. Murphy; C. Griffin; P. Kerins; L. Dennehy; J. Dowling; O. O'Sullivan; M. Walsh; D. O'Sullivan; D. O'Keeffe; G. Clifford. M. McKenna; M. Moriarty; T. Lynch; P. Moriarty;
Sub.- W. Raymond for McKenna.

West Kerry - S. Devane; M. Griffin, J. Dowling; J. Walsh; S. Lynch, M. Driscoll. M. O'Shea; T. McKenna; J. Driscoll; B. O'Sllllivan; M. Lovett; P. Hussey; J. Wrenn, T. Dowling, Y. Dowling.

Referee - Mr. N. Purtill (North Kerry).