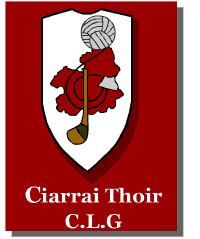 To anyone not familiar with the native sports of Ireland, The G.A.A. (The Gaelic Athletic Association) manage 3 different sports, Hurling, Gaelic Football (football for short), and Handball. The All-Ireland Football Championship is divided into 32 counties, each with its own County Gaelic Football team and County GAA Board. Kerry have won the All Ireland Football Championship Final 37 times and the National Football League final 19 times. This is probably as a result of the amount of local or club football teams, 64 in total, present in the county.
Because of the amount of clubs in the County, the Kerry GAA Board is sub-divided into four major boards North, South, East, and West Kerry with other town and district boards aswell. In East Kerry there are 13 Clubs. There are three East Kerry Championship Cups, The Senior Championship (The O'Donoghue Cup), The Intermediate Championship (The Fr.Galvin Cup) and the Junior Championship (O'Sullivan Cup).
The Owen O'Sullivan Cup has been presented to the winners of the East Kerry Junior Championship each year since it's dedication in 1975. The O'Sullivan Cup is sponsored this year by Killarney Carpet & Furniture Centre. Previously from 2011-2015 by O'Sullivan's Bike Sales & Service, Killarney, 2004-2010 by Mike Moriarty of Central Car Sales, Farranfore. And From 1975-2003 it was sponsored by Killarney Oils. Sponsors.